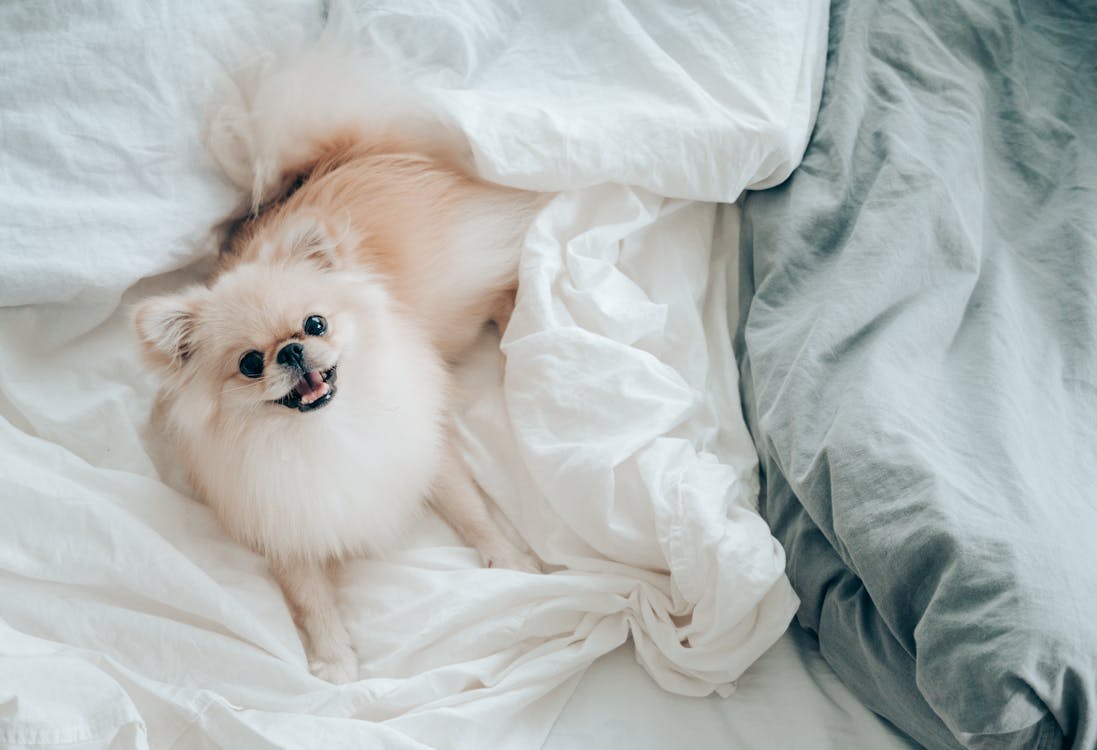 When seeking a pet bed for your furry friend, check out the amazing options at this dog beds store in Oakland Park, More Bedding & Bath. Because most dogs sleep over 10 hours a day, they need to have a comfortable bed. There is an endless variety of available pet bedding in many styles and colors. There is also a perfect bed at many different price points.
Choose a dog bed according to your pet's needs
There is a pet bed for every need! For example, if your dog suffers from arthritis, it may benefit from having a bed with extra padding. Look at some of the pet bed options below to determine which type is the right choice for your furry friend.
Mattress pad beds – these are the typical, often rectangle, dog beds with a reasonable amount of padding. These are great for dogs who like to sprawl out while sleeping. Moving them from room to room is easy, so your pup only needs one bed.
Orthopedic beds – senior dogs and those with arthritis or another painful ailment will love a memory foam orthopedic bed. These beds are perfect for any dog that may struggle to get comfortable or need extra head or side support.
Doughnut-shaped beds – ideal for smaller dogs, these beds look like a giant pouf. They're great for any pup that likes to sleep cuddled up next to the sides. Remember that the cover is soft and fluffy, but the inside of the bed needs to be durable and withstand a dog's pawing and movement.
Tent beds – some dogs just like to have their own space. A tent bed is perfect for such a dog or ones that are often cold. Having an enclosed sleeping area is ideal for a lot of nervous dogs and can be just the thing to help calm them down and get some rest.
Elevated beds – if your dog seems hot often, a high dog bed may be just what the doctor ordered! The space between the bed and the floor allows air to circulate. This ensures that the bed stays as cool as possible.
Heating and cooling beds – any dog with extreme arthritis or chronic pain can benefit from a heating or cooling bed. Just as the name suggests, the temperature of these beds can be changed to suit your dog's needs.
These are just a few examples of the different types of pet bedding available. For instance, there are beds designed to withstand serious chewers and pet bed options that look like furniture! Whatever you have in mind for your dog, it's out there somewhere!
Most pet beds come with removable covers to make it easier to keep them clean and tidy. Be sure to check the laundry instructions for both the bed and the cover when determining which bed is the right one for your pup.
When purchasing a bed for your dog, keep the following things in mind:
Your dog's size

Safe and hazard-free materials

Washable and good quality materials

Your dog's sleeping style and habits

Your dog's age and health
Benefits of using a dog bed
In addition to the 10+ hours they spend sleeping, dogs also like to have their own spots. This can help them to feel safe, calm, and secure. And although most pet owners love to have their pets sleep in bed with them, it isn't always the best option. If you've decided that now is the time to get your pooch their very own bed, you've probably made the right decision. Even if a dog has its bed, that doesn't mean it still can't snuggle up in the human bed every now and then!
Another benefit of having a dedicated bed for your dog is that it's better for them. Rather than sleeping on the floor or even on a blanket, dog beds are a better option. The right pet bed will provide the support that they need. This can help their bodies, especially their joints, stay protected while they sleep. It also allows them to have a safe place to stretch out and get comfy without being in the way or being tripped over!
Don't be afraid to experiment. If your dog is still uninterested in their bed after an extended introduction, it may be time to try another design. It will be apparent that your dog loves their new bed when you've made the right selection! If a bed doesn't work, it's not the end of the world. Donate the unwanted bed to a local shelter and then try again.
How to help your dog get used to a new bed?
When you first bring a pet bed home, it may take a little while for your pooch to get used to it. Sit with your dog on the bed and show them how to get comfortable! After a little sniffing around, your dog should figure out how to best maximize the comfort of its new bed! If your dog is food trained, put a couple of little treats on the bed so that they know it is a safe spot for them.
Place any stuffed animals or other toys on the bed. This can help them recognize that it's their bed to use! If your pup usually sleeps on a blanket, or has a special pillow or another item, place those items on the bed too. Anything you can do to show your pet that this is their space to enjoy is a good idea.
Don't use the bed as punishment or a "time out" space. You want them to feel safe and secure whenever they are on their pet bed. If you plan to have multiple beds throughout the house for use in different rooms, it might be easier to get them used to one bed first. After they have gotten used to their main bed, it's better to put the other beds in other rooms for them. It might be very confusing to see them in multiple rooms throughout the house without knowing exactly what to do with their new bed.
And again, if it turns out the bed isn't a good fit for your dog, it's okay to try a different type. It is also possible that your dog may not like beds and is content to continue sleeping where it has been getting shut eye. Let your dog tell you what it wants. This is easy to do by watching its behavior and how it acts.
What rooms are best for which dog beds?
It is based on preference regarding which rooms are best for dog beds. If you don't want your dog sleeping in your bed, the bedroom would be the obvious spot for their bed. If your dog likes to feel part of the action, the living room might be a great spot for its bed. If there is a child that the dog has bonded with, a bed in that child's room could be the perfect spot!
Some dogs have beds in multiple rooms throughout the house and outdoors too! If you have a small dog, it is possible to move its bed from room to room throughout the day. If you don't want to worry about carrying around a dog bed all day, buying a few beds is an effective solution. Multiple beds mean that one won't get too worn out too quickly. It can also mean that there's always a clean bed available! Depending on your dog's size and activity level, keeping the pet beds clean can become a chore for sure!
Considering purchasing a sturdy and comfortable dog bed?
Head over to our Oakland Park, FL store to shop for luxury dog beds. You can count on More Bedding & Bath for your entire family's bath and bedding needs!
Owning a dog can bring so much joy, laughter, and happiness to a family! It's only right that we treat these companion animals right. Finding the right dog bed for your pup is worth the time and energy. Not only will your pooch feel safe and loved, but the right bed can also benefit its health.